Invitation Link
Updated: 2023-10-26 07:31:03
1.1 Create an invite to upload link
Enter the folder where you want to invite uploads, such as the "Raysync" directory, and click the "Invite to upload" button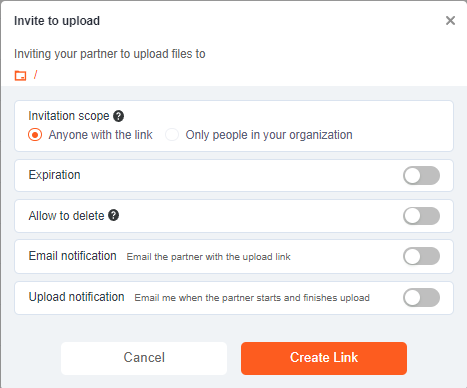 Options
Function Description
Invitation scope

Anyone: No user identity login verification is required. Anyone who obtains the link can upload files to the invited directory.

Only people in your organization: After obtaining the link, the user needs to log in to the Raysync account to upload the file.

Link expiration time

Set link expiration time.

Allow deletion

When enabled, others can delete files in the invitation link.

Email notifications to partners

Notify others to open the link when it is created. Note: There are two ways of email notification: one is administrator notification, which requires the configuration of the system administrator's email. (For details, please refer to "Admin Portal Guide" - User Editing - Security Settings.) The other is user notification, which is configured in the email settings of the personal center. (For the method of configuring email, please refer to "User Guide" - Profile - Email Settings.) The configuration is displayed according to the administrator's configuration. If the administrator notification is set, the email cannot be configured.

Upload notification

Notification when upload starts and when upload is completed.
Click Create Link, a link and an access password will be generated by default

Click Copy Link, you can copy the link and password and send it to your partner.
1.2 Visit the invite to upload link
Enter the link address of invite to upload in your browser, enter your password and click Log in

Enter the file list of invite to upload link, click Upload to start uploading files

Enter the file list of invite to upload link, click New Folder, you can create a new folder, or upload files to the new folder. Note: The file list shows all the files and folders in the invited directory, for example, if the invitation is uploaded to "Raysync" directory, it will show all the files and folders in the directory of "Raysync".
1.3 Manage invite to upload links
Cancel the link
Select the link you want to cancel and click cancel invitation