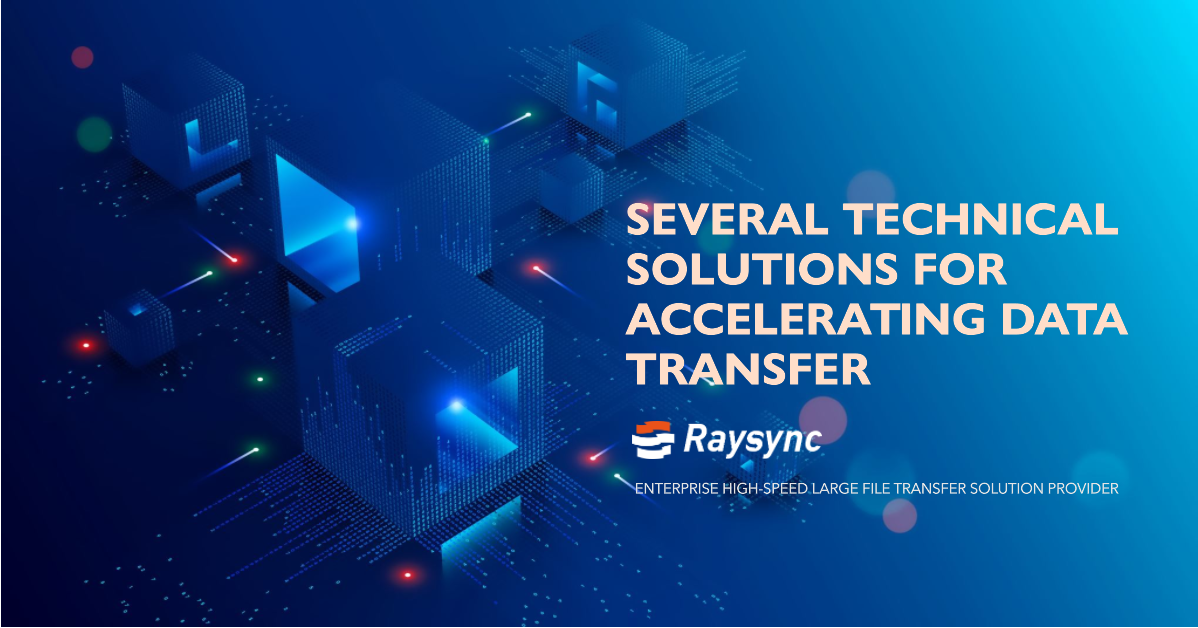 In today's digital age, data transfer is an inevitable task in various industries. The speed of data transfer can determine the efficiency and cost of data processing. Accelerating data transfer has become a focal point for many businesses and organizations. This article will introduce some technologies used to accelerate data transfer to help enterprises address this challenge. 1. Network Acceleration Technologies Network acceleration technologies primarily improve transfer speed by optimizing network protocols and improving transfer methods. TCP acceleration and UDP acceleration are common ways to optimize network protocols. TCP, or transfer Control Protocol, has complex mechanisms and includes some important instructions. When transmitting files or data, since the files are divided into multiple packets, and each packet carries important instructions, complete recovery and assembly are required, along with retransmitting data packets that the other party has not received. This process often results in slow transfer speeds. To optimize transfer efficiency, TCP acceleration technologies such as window size and flow control can be used. UDP, or User Datagram Protocol, achieves better transfer speeds compared to TCP by sending data packets to the destination as soon as possible. Additionally, network load balancing can also achieve network acceleration by distributing the load across multiple servers, thereby improving data transfer speed. Raysync is a software-based large file transfer solution provider, dedicated to meeting the needs of high-speed large data transfers with high security regardless of file size, distance or network conditions, providing enterprises with fast, safe, stable, cost-efficient, and convenient large file transfer services. 2. Storage Acceleration Technologies Storage acceleration technologies improve storage transfer speeds through optimization of data read/write, data compression, data caching, etc. SSD, RAID, and hardware acceleration are three commonly used storage acceleration technologies. SSD, or Solid State Drive, offers higher read/write speeds, lower latency, and longer lifespan compared to traditional hard drives. Therefore, using SSD can improve file transfer speed in handling large files. RAID, or Redundant Array of Independent Disks, is a disk array technology that combines multiple disks into a single logical disk for data backup and quick access. RAID technology can combine multiple hard disks into a logical disk, thus achieving data redundancy and improving data transfer speed and reliability. Hardware acceleration provides acceleration features at the hardware level, such as using GPUs to accelerate data processing or improving data transfer speed through techniques like high-speed caching and data prefetching. 3. Striping Technologies Striping technology involves storing file data in blocks and then transferring them between multiple devices, thereby quickly improving transfer speed. Implementation methods include cluster striping and cross-device striping. These techniques essentially divide files into blocks and simultaneously transmit them through multiple devices, thereby enhancing data transfer speed and efficiency. In cluster striping, the size of data blocks varies to adapt to different application scenarios. Cross-device striping involves dividing file data into multiple stripes and assigning them to different devices for storage, thus improving data access speed and efficiency. 4. Aggregation Linking Technology Aggregation linking technology combines multiple network links to improve transfer speed. Link aggregation technology can aggregate multiple network links and different network protocols to achieve multi-link concurrent transfer. Additionally, aggregation linking can optimize transfer protocols, compress data, reduce retransfer, etc., to improve transfer speed and optimize data transfer efficiency. 5. Compression Technology Compression technology aims to improve data transfer speed and efficiency by reducing data size. Common compression techniques include Gzip and LZ4. Gzip is a streaming compression technique known for its high compression ratio and small data volume during transfer. It also enables encryption during transfer to ensure data security. LZ4 is a real-time compression technique suitable for compressing infinite data streams, such as network transfers or disk files. Using compression technology reduces data transfer time and space consumption, thereby improving data transfer speed and efficiency. 6. Encryption Technology While encryption technology does not have the goal of improving transfer speed, it can enhance data security during transfer and, in some cases, even improve transfer speed. For example, when using SSL/TLS protocols for data transfer, encryption algorithms and public-private key encryption protect data security. This encryption method can also reduce network interception, decrease data transfer latency, and improve data transfer efficiency. 7. Distributed Transfer Technology Distributed transfer technology improves transfer speed and reliability by dispersing data transfer among multiple nodes. For example, the BitTorrent protocol is a distributed file transfer protocol that divides files into multiple small pieces and distributes them among multiple nodes for block-by-block transfer, thereby accelerating file transfer speed. Distributed transfer technology can also enhance data transfer efficiency through optimization of data caching, data backup, etc. 8. Content Delivery Network  Technology CDN technology utilizes multiple distributed servers to store and transmit data, selecting appropriate servers based on the principle of proximity to users, thereby improving data transfer speed and reliability. CDN technology typically includes acceleration nodes, response nodes, CNAME, DNS load balancing, and other technologies. Servers can be placed in different geographic locations to cache and distribute common resources, improving data transfer efficiency. Using these technologies in the data transfer process can significantly improve transfer speed and quality, avoid issues such as data transfer delays and network congestion, and help reduce network bandwidth and CPU consumption. In today's era of the Internet and cloud computing services, data transfer speed is increasingly important, and technologies such as accelerating data transfer have become indispensable.
With the vigorous development of new technologies such as cloud computing, big data, the Internet of Things, and artificial intelligence, large-scale new applications have facilitated my life. But at the same time, hackers, who are tempted by the interests of black products, also turn their eyes to this place, and they have targeted attacks, again and again, thus directly plundering enterprise data resources and important customers. Here are our 5 tips for improving your data security: 1. Troubleshoot computer network system vulnerabilities The computer network system is composed of computer hardware, software, and client network system configuration. The first step of enterprise self-examination is to carry out daily maintenance of its own hardware equipment; Secondly, it is also the key point to check the compliance and security of software systems, clean up the non-compliant and unsafe third-party applications used by employees in time, update the conventional systems, and investigate loopholes; The other is to configure the client's network system safely. 2. Is the data using standardized The second point of self-examination of enterprise data security is to standardize the management of enterprise data use. Enterprises have a clear positioning of safety standards, and the practicality of specific data usage specifications is usually reflected in employees' daily work. Especially in file transmission, the transmission process is the hardest hit by network attacks, and the control of data flow is also very important. Just as many Internet companies are doing, it is necessary to manage the access, editing, and downloading rights of sensitive data, which plays a protective role in data security to a certain extent. 3. Investigate employees' safety awareness At present, nearly half of cyber-attacks are caused by the lack of security awareness of enterprise employees, which directly or indirectly leads to data leakage. The employees' awareness of the importance of data and network attack methods is directly related to their sensitivity to the possible security threats and potential attacks of current data. Many enterprises tend to ignore the safety control of employees. Do your employees really know what might be a cyber attack? Data security training is a good way for employees' safety awareness. Establish a culture so that employees can quickly perceive potential threats and report suspicious cases in time. The above self-inspection method is based on three key factors of data security, and the other two points we want to mention are the self-inspection method of security control of dynamic data. 4. Data flow direction "High-speed data transfer creates value for enterprises" is the service concept of Raysync. On the contrary, this sentence is essentially the normal state of enterprise business transfer. Every day, a small and medium-sized enterprise produces no less than 10GB of data, and where this data flow is actually a security blind spot for many enterprises. At present, there are more and more ways of online data interaction, and various ways of data interaction facilitate people's work, but also greatly increase the difficulty for enterprises to supervise data security. To solve this problem, let's take a look at how the enterprise-level file transfer expert Raysync deals with it. - Transmission management and control: add transmission strategy, transmission reality, and transmission log design, and the administrator can take a glance at the transmission of sub-accounts; - Supervision of document outgoing: all documents outgoing are under management supervision. In the face of sensitive data leakage, the administrator can directly interrupt the sharing of relevant documents; 5. Grade authority Dividing data grades and employee categories is the key to building an enterprise data safety net. Hackers and system vulnerabilities are the main reasons for data leakage incidents. Some conscious and unconscious operation behaviors of employees in their daily work are easily manipulated or misled by cybercriminals, and the data level they come into contact with is the height of enterprise information assets that criminals can reach. Grant local administrative authority only when necessary, assuming that the network attack against the enterprise is successful , and the infected computer cannot easily spread malicious software to other devices in the network, which plays an important role in curbing the attack scope. In view of this, many applications can do it at present. For example, several functional designs of data authority such as identity authorization, user grouping, and security encryption in Raysync run through the whole process of data security transmission, which is a good way to protect enterprise data security. Data flow transfers data to create greater value. Today, with the rapid development of science and technology, the process of data interaction is both an opportunity and a challenge for Internet enterprises, as well as hackers.
Efficient and fast communication has always been our necessity. As the Internet becomes faster and faster, network and packet protocols need to be upgraded. The backbone of communication has always been TCP and UDP protocols. Due to the overhead of acknowledgment of each packet, TCP is known for its reliable and slow communication. UDP is a fireproof and forgetful protocol and does not guarantee reliable data packet transfer. In fact, many protocols can be exported by using TCP and UDP to achieve fast data packet transfer and quality control. UDP: Used for fast data packet transfer because it is very light. TCP: Used to control communication quality by confirming packet transfer. The intelligent combination of the two protocols can generate various audio, video streams, large-capacity data transfer, and other application protocols. UDT: High-capacity and reliable data transfer, a large amount of data transfer on TCP cause insufficient utilization. Because TCP acknowledges every packet that makes it slow. On the contrary, UDT of UDP + TCP protocol can get the best of both worlds. Mass data transfer is carried out through UDP, and transfer quality control is carried out through TCP. UDP for data transfer: In order to transmit large amounts of data on extremely high-speed networks, we can use UDP to transmit data from one location to another over the Internet. TCP for quality control: Transfer control protocol can be used to monitor data quality and loss during UDP transfer. And if necessary, request retransfer to the data packet. Therefore, quality control agreements provide customers with control to balance speed and quality. Therefore, the user experience is provided based on the client's speed and preferences. It is built for high-speed networks and has been proven to support TB-level global data transfer. This is the core technology of many commercial high-speed networks and applications. Multiple UDT transfers can share bandwidth fairly while providing sufficient bandwidth for TCP. Implementation of the application layer, so it is easier to implement on any system. The software can start using it. No kernel reconfiguration is required. The API is very simple and can be easily integrated into existing applications. User-defined congestion control algorithm. The protocol is flexible enough to be modified for various applications. The protocol uses the underlying UDP and TCP, so it is easier to traverse the firewall. A single UDP port can be used for multiple UDT transfers. Real-time audio and video streaming , the protocol is specially written for live audio and video streaming. Based on some degree of data loss is an acceptable assumption. The Real-Time Transport Protocol is based on UDP, and the protocol relies on the fact that the data is real-time and therefore rejects data packets received after the deadline window. Once the buffer receives enough data packets to be played on the client, the buffer is maintained on the client. The buffer is maintained to control the experience, and an intelligent algorithm is set on the client to provide a good experience for the end-user. The Real-Time Transfer Control Protocol runs on TCP. This is a quality control protocol, which maintains a feedback loop between the server and the client. Real-time Streaming Protocol provides the ability to control media streams by implementing protocols in entertainment and communication systems. The client can control the streaming media through commands such as play, pause, and stop. Raysync High-speed File Transfer Protocol Raysync's UDP optimization transfer technology is an innovative software that eliminates the fundamental shortcomings of traditional TCP-based file transfer technologies such as FTP and HTTP. Therefore, the transfer speed of Raysync is hundreds of times faster than FTP/HTTP, saving transfer time, no limits of file size, transfer distance, or network condition, including through satellite, wireless, and exiting long-distance and unreliable intercontinental links transmission.
2020-11-19
High speed data transmission