Share Link
Updated: 2023-10-26 07:31:39
1.1 Create share link
Select the file/folder you need to share, support select multiple files/folders to share at the same time.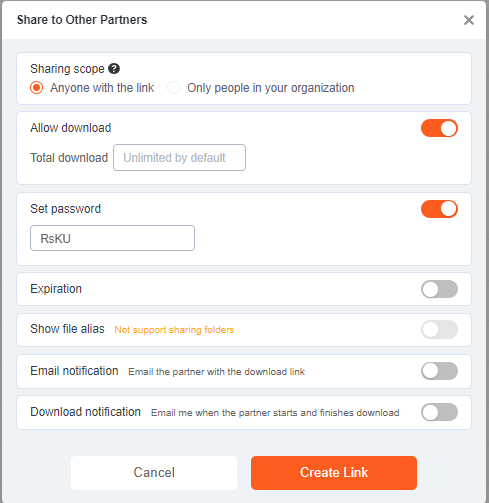 Options
Function Description
Sharing scope
Anyone with the link: No user authentication, anyone with the link can get the file.
Only people in your organization: After obtaining the link, the user needs to log in to the Raysync account to get the file.
Whether to allow users to download
After turning it off, the shared files cannot be downloaded.
Download times

Anyone with the link: The total number of times the link was viewed, the number of downloads shared by all people who accessed the link.

Only people in your organization: Individual downloads for each visiting user.

Whether to set a password

Without setting a password: any user who obtains the link can access the shared file.

Set a password: You need to verify the correctness of the password when accessing the link.

Link expiration time
Set link expiration time.
File aliases
Only for files, you can set an alias for the file and then share it. The shared file will be displayed with the alias.
Email notifications to partners

Notify others to open the link when it is created. Note: There are two ways of email notification: one is administrator notification, which requires the configuration of the system administrator's email. (For details, please refer to "Admin Portal Guide" - User Editing - Security Settings.) The other is user notification, which is configured in the email settings of the personal center. (For the method of configuring email, please refer to "User Guide" - Profile - Email Settings.) The configuration is displayed according to the administrator's configuration. If the administrator notification is set, the email cannot be configured.

Supports scheduled email notifications. After setting the timer, the system will send emails to notify others to open the link at the set time.

Download notifications
Notification when download starts and when download is completed
Click to create the share link, the link access password will be automatically generated.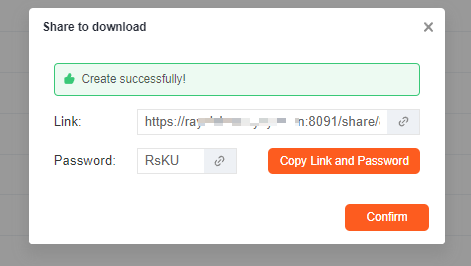 1.2 Access the share link
Enter the share link address in the browser, enter the password, and click Log in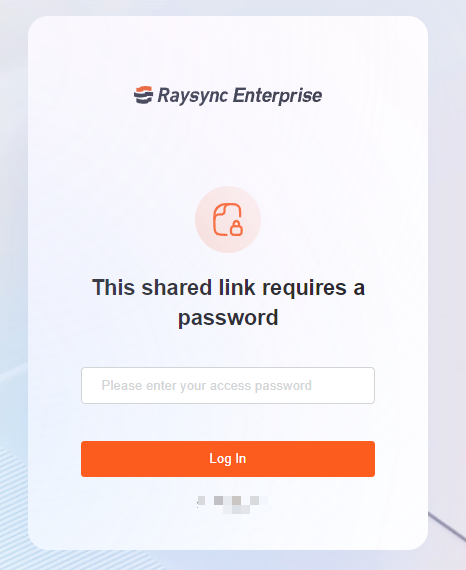 Enter the file list of shared download links and click the download button to start downloading.
1.3 Share link management
Cancel the share links Select the link that needs to be canceled in the sharing link, click

Disable

,
After canceling, the link will no longer be accessible
Turn on the device binding Note: To enable this function, the administrator needs to enable it on the server background. For details, please refer to the setting-sharing link in the "Admin Portal Guide". If the second device accesses the link, it will prompt that the device has been bound.