Raysync Introduces High-speed Large File Transfer Platform Built on Red Hat Enterprise Linux Ecosystem
Raysync, a leading provider of high-performance file transfer solutions, has announced a strategic partnership with Red Hat, the world-renowned open-source software and solutions provider. This collaboration aims to revolutionize data management solutions and empower businesses with efficient, secure, and scalable file transfer capabilities.
The certification from Red Hat is a testament to Raysync's dedication to maintaining the highest standards of compatibility and performance within the Red Hat Enterprise Linux ecosystem. It signifies that Raysync's Transfer Acceleration Software for Container meets the stringent criteria set by Red Hat, ensuring seamless integration and optimal performance for users.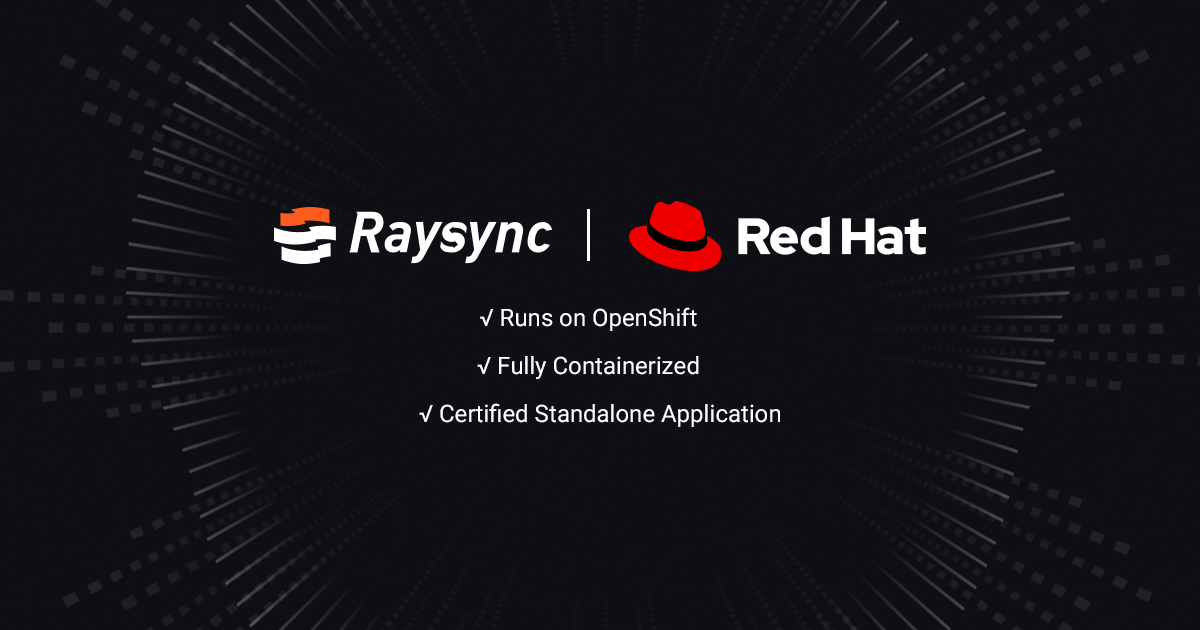 Background
Unstructured data such as business documents, emails, images, research reports, legal regulations, various reports, and audio/video information have become the predominant form of enterprise data. As the volume of data grows exponentially, with IDC projecting global data to reach 175ZB by 2025, of which 80% will be unstructured, effective management and utilization of data assets become a paramount task for enterprises.
In response to this challenge, Raysync has developed the Raysync Transfer Acceleration Software for Container, a cutting-edge solution designed to address the limitations of traditional data transfer methods and provide a secure, efficient, and reliable file transfer platform for enterprises.
Core Capabilities
Proprietary High-Speed Transfer Protocol
Raysync has developed its own high-speed Transfer protocol that automatically adjusts the Transfer speed to the optimal state regardless of network latency or packet loss conditions. Compared to TCP-based FTP and HTTP Transfer methods, this protocol can achieve speed improvements ranging from tens to hundreds of times.
Disk I/O Read/Write Optimization
The RayFile file processing engine, developed by Raysync, optimizes the reading and writing of data to achieve optimal Transfer speeds with minimal software overhead. This technology is effective in transferring both large and small files efficiently.
Cluster Transfer Technology
Through distributed cluster technology, multiple servers can be combined into a logical Transfer service. This technology supports file synchronization while retaining metadata information such as file permissions and user groups.
Security and Reliability
The platform supports TLS encryption protocol, enabling users to encrypt files using self-signed or CA-issued certificates to ensure file security. It also includes features like data filtering and text-sensitive word monitoring.
High Reliability and Modularity
The platform is designed using a highly modular architecture with distributed and loosely-coupled components, ensuring high availability in case of hardware or software failures.
Raysync Architecture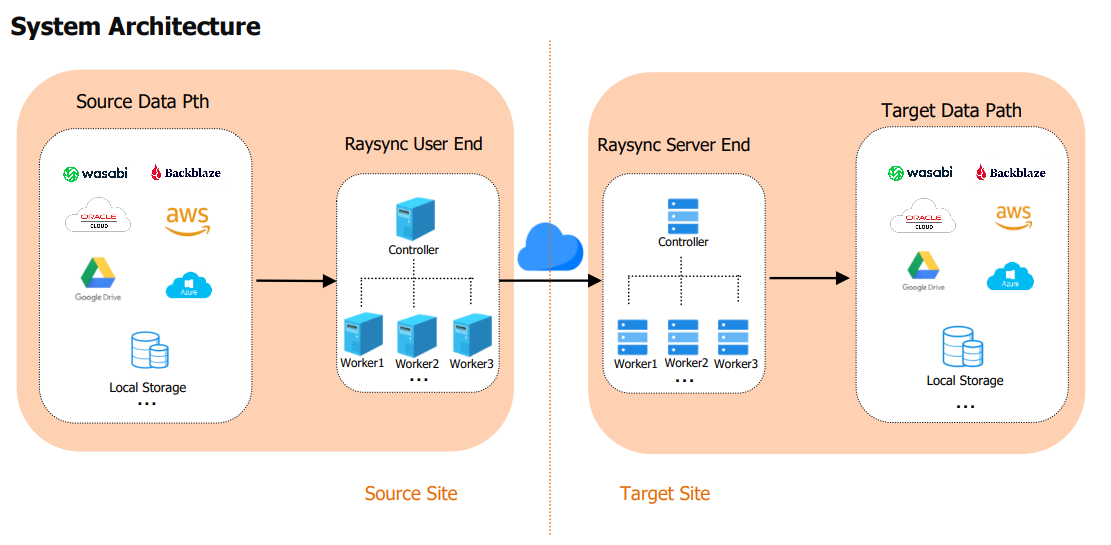 Business Value
The Raysync Transfer Acceleration Software for Container platform offers several key business advantages:
Stability and Reliability
Built on the Red Hat Enterprise Linux operating system, the platform provides quick, stable, and reliable file transfer services.
Enhanced Data Management
The solution offers efficient system support, including automated deployment and testing, to improve data management capabilities and utilization value.
Security and Compliance
Leveraging the security features of the Red Hat Enterprise Linux OS and implementing multiple encryption techniques, Raysync ensures secure and reliable file transfers.
User Experience
By utilizing Red Hat technology, Raysync offers robust technical support and services, enhancing user experience and satisfaction.
Conclusion
This partnership is poised to redefine how businesses handle data across the globe. As industries continue to generate and exchange vast amounts of data, the Raysync and Red Hat collaboration will play a pivotal role in ensuring that data can be moved efficiently, securely, and at the speed of business.
Through this partnership, Raysync and Red Hat will jointly develop solutions tailored to meet the evolving needs of enterprises across various industries. By leveraging Red Hat's extensive network and Raysync's technical expertise, the partnership will introduce innovative products that enable businesses to securely transfer, synchronize, and manage their data in real-time.
About Raysync
Raysync specializes in providing high-performance data transfer solutions for enterprises, offering software that optimizes transfer efficiency, secures data, and enhances data management capabilities. With a focus on innovation and reliability, Raysync empowers businesses to overcome data transfer challenges and achieve seamless connectivity.
Leveraging its proprietary Raysync Transfer engine, Raysync addresses cross-border, long-distance, and large file transfer challenges, significantly enhancing bandwidth efficiency, work efficiency, and user satisfaction.
About Red Hat
Red Hat is a world-leading enterprise open-source software solutions provider, offering stable, reliable, and high-performance Linux, hybrid cloud, container, and Kubernetes technologies. With strong community support, Red Hat assists clients in integrating existing and new IT applications, developing cloud-native applications, implementing standardized operations on leading operating systems, and achieving automation, security, and management in complex environments. Renowned for its top-notch support, training, and consulting services, Red Hat serves as a trusted advisor to Fortune 500 companies. As a collaborative partner of various cloud service providers, system integrators, application vendors, customers, and open-source communities, Red Hat is committed to preparing businesses to embrace a digital future.
Previous:(empty)
Next:Integrating Data from Different Platforms, Enabling Unified Synchronization and Enhancing the Value of the Data