What are the best alternatives to Aspera in 2023?
When Analog or Digital data is transmitted or transferred from one point to another through the use of computing technology, this process is known as data transfer. Data transfer is a very crucial concept in modern business networking. Data has to be transmitted over long distances for large business corporations which is very important for their business to thrive. Sometimes the data is collected in one country and has to be sent to another country, which could take hours or even days, which is a hectic process. There are many tools that have been constructed solely for the purpose of data transfer, such as Zinstall, Samsung Smart Switch, etc. Amongst all these File Transfer Protocols, the best ones are Raysync and IBM's Aspera.
Raysync was founded in 2010 and has a global presence. The main purpose of the product is to speed up the transmission of large amounts of digital data and optimize the network, providing a perfect solution for transmitting large amounts of data over long distances. On the other hand, Aspera is a software for transferring large amounts of data over long distances. It was founded in 2004 by Michelle Munson and Serban Simu. Its main use is for data transfer and streaming.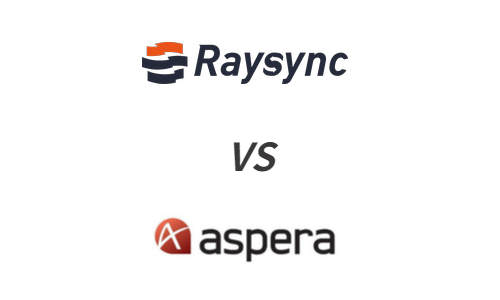 Pros and Cons of aspera vs Raysync
-

Installation:
The installation and deployment procedure of Raysync is very simple, fast, and easy. The procedure is as follows: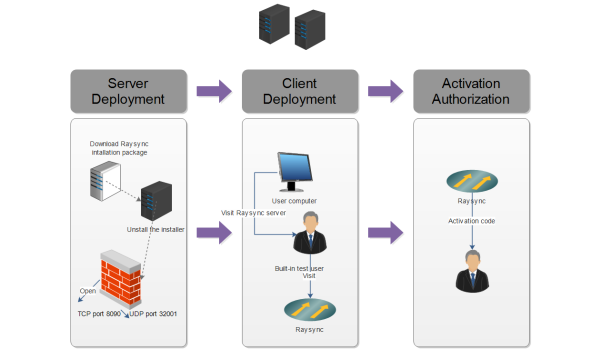 First step:
Server Deployment: First, you need to have a machine that will serve as your server. Download the Raysync Transfer package and unpack and start it on your server. Then, open TCP ports 8090, 9090 and UDP port 32001 on your firewall to ensure smooth data transmission.
Second step:
Client Deployment: Transfer users can visit the webpage of Raysync client at http://ip:8090, download and install Raysync client on their computers to start high-speed data transfer, which realizes the synchronization of data from different nodes with the server and the high-speed transfer between data nodes.
Third step:
Activate the license: After the deployment is completed, open your backend management webpage http://ip:9090/admin and log in with the default administrator account password. Request an activation authorization code from Raysync technical support team to make sure you activate the server and take full advantage of Raysync's features and benefits.
Forth step:
Create Transfer User: After successful activation, you can create your transfer user.
For the installation of Aspera, many procedures have to be gone through. The procedures are as follows:
1. Firstly, we have to install the Connect Extension.
2. Then, we will be prompted by the installation screen.
3. Thirdly, we have to download the application installer.
4. Then we have to install the application. It is a long procedure and takes a lot of time.
-Transfer rate:
Raysync:
1. Raysync's transfer optimization technology eliminates the fundamental flaws of traditional FTP and HTTP, making Raysync a hundred times faster than other FTP/HTTP, with the ability to automatically switch between UDP and TCP. 2.
2. Raysync uses intelligent compression technology to efficiently utilize bandwidth. the most important factors for Raysync are upload and download speeds and bandwidth utilization, which make Raysync better than other FTP/HTTP. Packet loss is consistently less than 10%, regardless of file size, and Raysync utilizes nearly 96% of its bandwidth with less than 1% redundant data.
3. Raysync's average data transfer rate is 22MB/s (177.68Mbps). That's a nearly 265-fold increase in transfer speed! Raysync can transfer a 10GB file in nearly 7.5 minutes over a distance of nearly 10,000 kilometers, while other FTPs require more than 30 hours to transfer a 10GB file.
Aspera:
Raysync can transfer a 10GB file in nearly 7.5 minutes over a distance of nearly 10,000 kilometers, while other FTPs take more than 30 hours to transfer a 10GB file. Aspera takes more time, and while Aspera can utilize bandwidth as well as Raysync, Raysync has smart compression technology that utilizes bandwidth efficiently and transfers large files in less time.
-

Latency: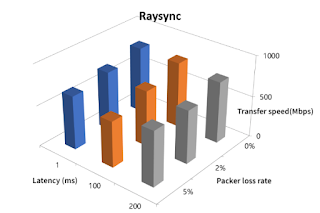 Numerous other FTPs would have a latency of 200 ms but would have up to 20% Packet loss rate. The packet loss causes numerous problems and packet losses have to be prevented or at least reduced as much as possible. Raysync is the most efficient FTP ever. Because at a latency of 200 ms, Raysync would have a packet loss rate of only 5%, which is significant. Raysync excels from other FTPs because it can transfer very large amounts of data over long distances in a relatively very short amount of time and with almost 5% packet loss.
-Advanced Configuration:
Raysync can be privately configured to customize a configuration that is exclusive to your business or organization.
Conclusion
I would conclude by saying that Raysync is way more reliable, fast, secure, and cost-effective and user friendly. Raysync is the only FTP that has such a high file transfer rate and with so little packet loss rate. Aspera is a very useful software but the Raysync is absolutely worth it! Therefore, Raysync is definitely the best alternative to Aspera!
Previous:Problems Faced by Transnational Transmission
Next:Raysync Transmission Is Providing Huawei with Big Data Transmission Services